A perfectly simple CRM and CMS for your business
No Training Required
Intuitive design and helpful guides on every page enable you and your employees to confidently start using this CRM the first day.



Just click on the ? to read the help docs.
Form Builder
Build new forms and manage submitted forms.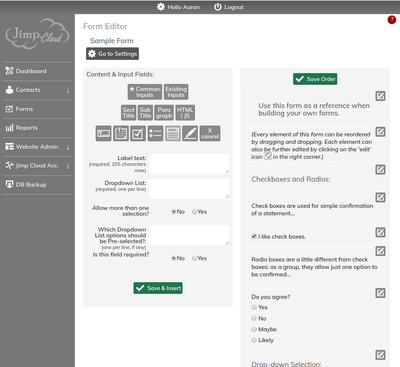 Got data to track? Build forms (checklists, contracts, registration... anything) that can be filled out for each of your contacts, or completed and signed by your contacts via your website. Modify, clone, update and keep your whole team on the same page.
Task Management
Manage tasks for each contact with alerts and a calendar to keep you and your employees on time, on task, and in control.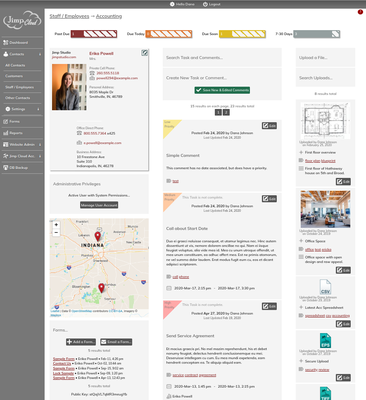 Set recurring tasks that will populate your calendar and alert you when they approach or become overdue.
Integrated Website Management
Managing your website content shouldn't be hard. If you decide to host your site with Jimp Cloud CMS, it's easier than ever to create a beautiful website that directly connects your customers and clients to the Jimp Cloud CRM.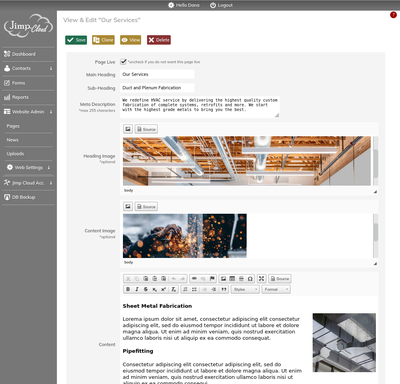 With the Website Manager and Form Builder completely integrated, you can easily create questionaires, event registration pages and so much more.
Upload Manager
Upload scanned files, adding a title, description and tags for sorting those old customer documents from your file cabinets.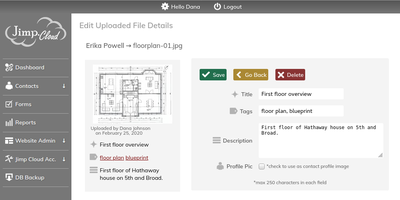 Then, haul out those file cabinets and make room for a coffee bar.
Responsive, Mobile, and Consistent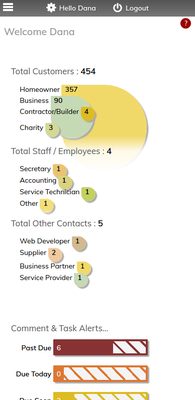 Same functions and features whether you are on your phone, a tablet, or your laptop.
CRM only, or
CRM + Integrated Website Hosting
Customer & Contact Management (CRM)
$30
per user, per month
$1 a day, per user. Now that's affordable.
Be sure to see the details, but here's a quick list of what the CRM includes...
Task & Comment Manager
Integrated Calendaring
MailChimp Integration
Invoicing w/ Stripe CC processing
Form Builder
Responsive UI
Upload Manager
Anytime-Backups
User Permissions
SSL w/ SHA256 encryption
CRM plus Website Hosting
$30
per user, per month
+
$30 per month for Hosting
All CRM features plus these additional features...
$30 per month, Managed shared hosting for your domain including SSL certificate and Content Management System
Website hosting and CMS includes these features...

Easy to use Content Management System
No hassle SSL certificate for your domain from EFF's Let's Encrypt
WYSIWYG Page and News Editor
Website Form integration
Custom MX record setup
X CLOSE